---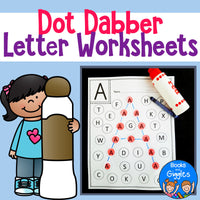 Learning letters is extra fun with dot marker activities! These 26 alphabet worksheets give students practice recognizing and writing uppercase letters. They also engage children in a fun dot dabbing activity.
MORE ABOUT THIS PRODUCT
 These letter worksheets include a page for each uppercase letter of the alphabet, and address 3 skills:
 1. Recognizing letter shapes
2. Tracing letter shapes
3. Practicing letter discrimination
As students finish each letter, they dot that letter on their recording sheet.
CONTENTS
 27 pages total – all you need is a dot marker (a.k.a. bingo marker, dauber, and a popular name brand dot marker)
- Alphabet activity dot dabbing sheets (26 pages)
- Progress tracking sheet (1 page)
All the worksheets are black and white.
Take a sneak peek here:
YOU MAY ALSO LIKE

 Lowercase Dot Dabber ABC Worksheets